I can hardly believe that it is time for 31 for 21 again! This year has just flown by, hasn't it? We continue to grow and thrive as a family... Gavin is 9 years old and his brothers, Nic and Kris are on the cusp of turning 18... amazing. Gavin continues to be in inclusive environments -- which he loves -- at school and in after school programs.
This year my goal has been to reach out and discover our amazing Down syndrome community. I am happy and proud to say I have over three hundred friends on Facebook, most of which have had their lives touched by someone with Down syndrome. It is a far cry from the 400 thousand people with Down syndrome but it's a start. I love all the photos and hearing their stories. I love the You Tube videos dedicated to Down syndrome and the information I can access and share about Down syndrome on Facebook. I love that we can be connected as a community this way.
This year also marked the first anniversary of Julia's passing (read about her in older posts) and we still miss her so much. Every where we go we see tinker fairies and imagine her laughter. We wish we could grow up with her but must be content with growing with her all around us. I am grateful that her parents remain in our lives and continue to teach me so much about strength, compassion and grace. I need this -- every day.
The recession and amendments to the Lanterman Act have brought much change to the services we are able to access. On one hand it has made our road a bit rougher but it has also revealed our true partners on this road to ability. I am in awe of their dedication working tirelessly, unfunded for people with disabilities. It soothes the shame I feel toward the agencies that continue to misappropriate funds, but enough about that.
During this month I will blog as often as possible in hopes of bringing a glimpse of our life -- the joys and struggles, laughter and tears, hopes and dreams -- in honor of Down syndrome Awareness month and Project 31 for 21.
Thank you for sharing our journey and I welcome your comments.
Suze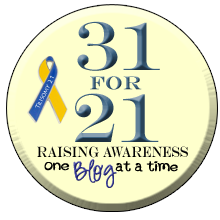 Grab This Button